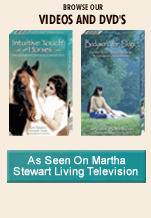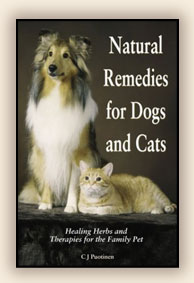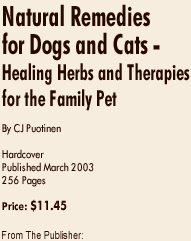 ..
In Natural Remedies for Dogs and Cats, noted pet expert CJ Puotinen focuses on the power of alternative therapies to enrich the lives of dogs and cats. Puotinen shows how a well-balanced diet of the right herbs can prevent and treat a wide variety of health problems, restoring and rejuvenating the strength and vitality of our beloved household pets.
Kelp and Other Seaweeds
Corrects mineral deficiencies
Unrefined Sea Salt
Improves digestion and assimilation
Aloe Vera
Prevents intestinal worms
Wheat Grass or Rye Grass
Prevents hair balls
Featuring advice from some of the world's leading holistic veterinarians and herbalists, this indispensable book includes an extensive list of resources, feeding programs with sample menus, and an herbal "pharmacy" of nearly fifty recipes for sprays, salves, tinctures, oils, and powders. Compassionate and practical, Natural Remedies for Dogs and Cats proves that the more you learn about common illnesses and how to prevent them, the happier, healthier and longer your animal's life can be.
About The Author:
CJ Puotinen is the author of many books on natural health, including The Encyclopedia of Natural Pet Care.
From Animals Healing:
We highly recommend anything written by CJ Puotinen! It will contain clear, concise and reliable information, gathered, presented and combined with her vast background in holistic animal care.