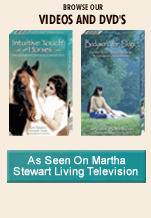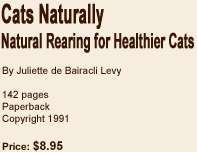 ..
Cats Naturally offers a compilation of the many healing values of nature. Cat lovers everywhere will be intrigued by the variety of natural foods, in addition to meat, which are acceptable to cats, ranging from sweetcorn to berries. The author gives diet charts to maintain good health and lists plants that cats instinctively use to keep themselves well. Proved herbal treatments for feline ailments are included.
Affectionate, clever, amusing and resourceful though they are, some cats do have behavior problems, and these are dealt with here.
Contents include:
Raising the Domestic Cat - Country Cats, Cat play, Climbing cats, Modern cat life, Climbing needs, Training, Cat claws, De-clawing, Scratching places, Raising kittens, Size of litters, Unwanted kittens, Training of kittens, Obedience, Removing kittens from their mother, Naming a kitten, Survival of cats, Health hazards, Natural life for cats, Wild and feral cats, Exercise for town cats, Entertainment for cats, Cat dens, Fleas, Bathing
Nature Diet for Cats - Vegetarian foods, Size of feeds, Cats and birds, Fresh foods, Herbs, Diet for health, Flesh foods, Fish, Bones, Milk, Cheese, Cereals, Other foods for cats, Oil for cats, 'Pet foods', Raw foods, Legumes, Natural Rearing Diets, NR Diet for kittens, Weaning, NR Diet for adult cats
Herbal Remedies - Gathering of herbs, Drying herbs, To make herbal brews and pills, Dosing of cats and kittens, Signs of illness, Internal cleansing, External ailments caused by insects and parasites, External ailments: other skin troubles, Ailments of the digestive system, Worms, Other common ailments, Experiments on animals
Names for Cats - Names according to colour, Black cats, Black-and-white cats, White or silver cats, Creamy cats, Blue or grey cats, Red, golden, ginger or tawny, Speckled cats, Cats with white feet and/or leg markings, Mixed-colour cats, Cats of any colour, Names for female cats, Names for male cats, Calling Cats, Suitability of names
Conclusion - Return to Nature, Plea for love, Care for cats, Burial of pets, Protection of cats, Treatment of animals, Herbal care, Love your animals, Last words, 'Cats' Eyes'
Juliette de Bairacli Levy is a world-wide authority on the natural rearing of animals and a pioneer in the field of their treatment by herbal medicine. She has proved over many years that her treatments and diets for animals are safe and effective and she is a renowned breeder of Turkuman Afghan hounds. She has cared for and loved cats all through her long and much-travelled life. As well as being a botanist and practical herbalist, she is also a soil doctor and anthologist of gypsy lore. Born in Manchester, of Turkish parentage, Juliette de Bairacli Levy is in her ninth decade of sharing her wisdom.
Delightfully written by a remarkable woman. Juliette puts us in touch with cats' "inherited intelligence" and the healing that nature provides.
For more information about Juliette de Bairacli Levy, click here.