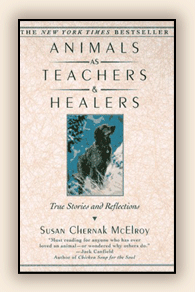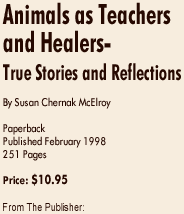 Susan Chernak McElroy credits her astounding triumph over cancer to the love of the animals in her life. In Animals as Teachers & Healers she shares her remarkable story along with true stories from others who have been touched by the loving energies of animals.
A woman escapes an abusive relationship by observing how her boyfriend treated her two Arabian horses… a German shepherd cocoons its body around a toddler during a house fire…a coyote gives a couple wisdom about their rebellious daughter…a little three-legged frog imparts a valuable lesson to a frightened nine-year-old girl. Unique and compelling, Animals as Teachers & Healers invites us to reconnect with the boundless gifts of joy, wisdom, and deep healing that flow from our ageless and intimate relationship with the animal kingdom.
"Must reading for anyone who has ever loved an animal."
—Jack Canfield, , Author of Chicken Soup for the Soul
"Stirring, emotional, and important…For anyone who's ever owned a pet, this kaleidoscope of emotions will elicit tears, laughter, and some very special memories."
—The Seattle Times
"Filled with parables of a delicate, philosophical nature."
—Los Angeles Times
"Heartwarming and inspirational."
—Publishers Weekly
"Compelling."
—USA Today
About The Author:
A former technical writer and editor, Susan Chernak McElroy has enjoyed a lifelong love affair with animals. Her enchantment with creatures great and small has been nurtured and strengthened through a lifetime of work with animals, first as a vet assistant, then zookeeper, humane educator, puppy trainer, kennel and stable hand, and wildlife rehabilitator. Susan is also the author of Animals as Guides for the Soul, Heart in the Wild: A Journey of Self Discovery with the Animals of the Wilderness, and her newest, All My Relations: Living with Animals as Teachers and Healers. Her writing is also featured in several anthologies, including the best selling "Intimate Nature: The Bond Between Women and Animals," Kinship with the Animals," and a host of "Chicken Soup" collections.